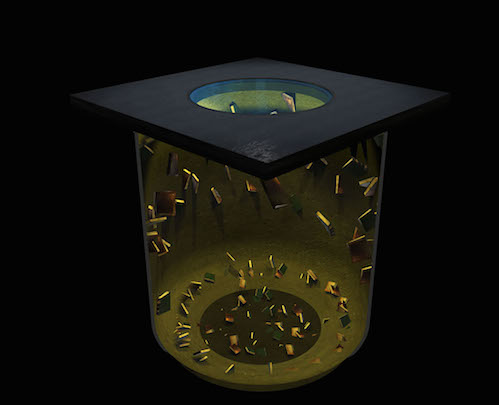 The Burning of the Books on the Residenzplatz_ Salzburg
2017
International competition answer
On the site of the Burning of the Books, April 1938
- In the middle, the concrete cube is transformed by formwork into a concave and cylindrical shape.
- Smooth concrete textur on the inside surface.
- A painted treatment onto the bottom surface of the cylinder accentuates the perspective of depth.
- Books made inconcrete are embedded trougthout the cylinder. The books covers, with no text, will be colored matching the real 1930's editions.
- The monument glass cover is secure within a stainless steel, shot-blasted, zinc primed and powder. The under-surface is coted with Ritec 'Clearshield' which minimises the ability of water droplets to adhere to it. The cover can be lifted out whenever acess to the well is needed.
- An installation of air vents on either side of the cover of the cube to futher minimise the risk of condensation.
- LED lighting with hidden device fixed onto the internal brickwork and connected to the nearest mains supply.